1976: Freshly kicked out of her latest boarding school, Brooke arrived in Pine Valley for a supposedly short visit with her Aunt Phoebe. An unsuspecting Phoebe was fooled into believing her niece was a nice, polite girl. The arrival of Brooke's ruffian, motorcycle-riding boyfriend, Benny Sago, displeased the blue-blooded Aunt Phoebe. She turned up her nose at low-class Benny and encouraged Brooke to date a clean-cut young man named Dan Kennicott. Brooke decided to toy around with both men by leading Dan around by the nose and making Benny jealous in the process. Why not enjoy both men?! The girl just wanted to have fun!!!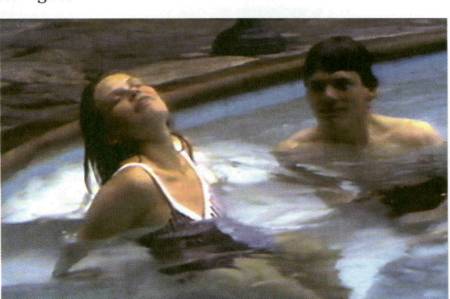 Brooke and Dan enjoy an amorous dip in Aunt Phoebe's swimming pool.
Julia Barr says, "I still remember the time that Brooke went for a romantic skinny dip with her boyfriend, Dan Kennicott, in Aunt Phoebe's pool. That sizzling scene may have looked provocative on the air, but it was freezing in the water. After four hours in an unheated pool, we ended up saying lines like, 'Isn't this w-w-wonderful?" From "The Complete Family Scrapbook".
From The Complete Family Scrapbook:
"Brooke laughed when she told Benny Sago her aunt thought she was an angel. They both knew better. Benny had followed Brooke to Pine Valley. He was a ruffian with dirt under his fingernails, and Phoebe had instantly turned up her nose at him. She encouraged Brooke to date the clean-cut Dan Kennicott, and Brooke didn't mind. Dan was a pushover, and she could lead him around by the nose and use him to make Benny jealous."
Benny and his bookie, Harry, played by Robert Morse.
1977: Dan became good friends with his new neighbor, a young girl named Devon Shepherd. Dan confided in Devon that he was afraid Brooke was two-timing him with her old beau Benny. Meanwhile, Brooke knew Dan was a virgin, and ridding him of that albatross was her divine challenge! After successfully bedding Dan, Brooke lost all interest in him. Brooke moved on to a new challenge - one time pro-football star Tom Cudahy. But Erica Kane liked him too! The battle over Tom was the beginning of the long-time rivalry between the women and marked the first Brooke/Erica fight!
1978: Brooke took up with Dan again after she realized that Tom was more interested in Erica. Besides Dan had begun dating Devon, and Brooke always wanted what she couldn't have. In the meantime, Aunt Phoebe was faking paralysis from a fall down the stairs. Phoebe's predicament was getting her some much-needed attention from her husband, Charles Tyler. Unfortunately it also confined her to a wheelchair, and while rolling around the grounds she stumbled upon the pool house and found Brooke and Dan naked and amorously engaged! In Julia Barr's own words, (The Soap Opera Book of Lists) "There was a great scene way back when where Phoebe caught Brooke in the poolhouse fooling around with Dan Kennicott. It was so much fun because Phoebe is a character given to outrage, and that was the most outraged Phoebe could become." Aunt Phoebe decided it was time to boot Brooke back home to her parents. Before Phoebe could ship Brooke out though, Brooke caught Phoebe out of her wheelchair and blackmailed her into an open-ended stay in Pine Valley.